Diamonds may be a girl's best friend, but for luxury brands like Tiffany & Co., friendship is not enough. Expanding into the Chinese market requires social media savvy and a strong commitment. With approximately 218,000 Global 500 Companies on Sina Weibo, here's how three of the best performing brands are engaging with their Chinese followers and growing their market share.
The North Face, Tiffany & Co., and Coach each have hundreds of thousands of followers on Weibo. We've looked at some of their successful strategies to attract and engage Chinese users.
The North Face
The North Face on Weibo has over 275,000 very active followers (over 6,000 posts).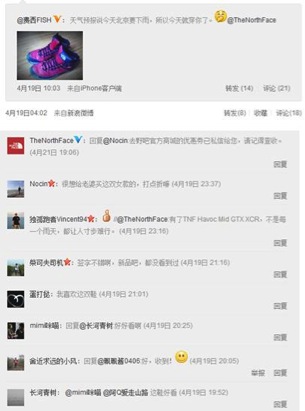 The following example (left) shows The North Face engaging with other Sina Weibo users.
A follower of The North Face ("Fish") has shared a picture of a pair of shoes that has garnered several comments, including one by a Sina Weibo user saying that he would love to buy a pair of these for his wife. The North Face responds to these interactions by offering a discount coupon to the user who wanted to buy a pair of their shoes.
In this case, The North Face has engaged with Chinese Sina Weibo users on multiple levels. Its presence on the social media site gives it greater brand visibility, as other users are able to post about its products. In addition to being discussed on Sina Weibo, The North Face actively engages with such discussions. The comment posted on this shared picture is targeted to a specific individual, which shows that they are interested in what people are saying.
Giving the Weibo user the coupon is a particularly effective way of furthering customer engagement because it offers an incentive for further discussion of their brand.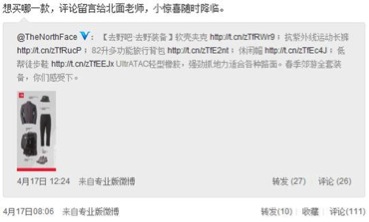 The North Face also uses its own posts to encourage further interaction with and between Sina Weibo users.
This post (left) by The North Face to their Weibo page is promoting their spring clothing. It's recommending several outfits for the upcoming season and asks people which one they would most want to buy. They add incentive by saying that there will be a "surprise" for those who comment.
In the end, this single post got 111 comments. What makes The North Face effective is the interactive element of their posts. They share information about their products while including incentives to get the desired response.Offering coupons and other surprises gives each user a personal motivation to become engaged with the brand.
Not all of The North Face's posts are based on specific product marketing; they also share engaging online activities that their followers can take part in.
Here (right) The North Face has posted a picture that links the shape of your toes to certain heritages. Though the picture is not obviously linked to The North Face brand, they make it relevant by asking users which feet are the most comfortable for running. Adding this extra element creates an engaging conversation that can be related back to The North Face's products. This particular post has 61 comments and was reposted 46 times.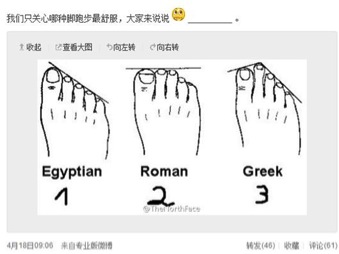 Tiffany & Co.
Tiffany & Co.'s Weibo account has helped propel this luxury brand to 4th out of 22 global jewelry and watch brands in the Chinese Market. Tiffany & Co. has over 129,000 followers and hundreds of posts. Tiffany's strategy on Weibo consists of tagging celebrities they have worked with, and using Weibo for customer service purposes.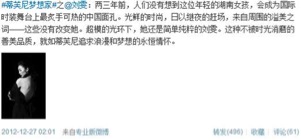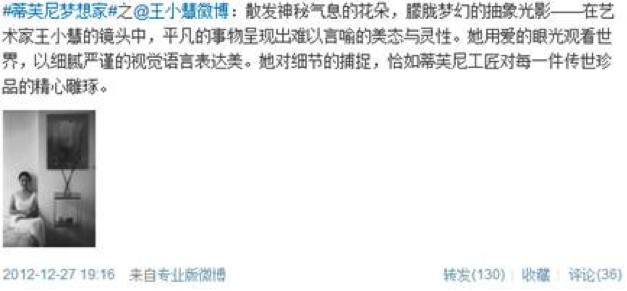 Above are two posts by Tiffany & Co. that highlight their connections with celebrities. The top post tags @liuwen and compares her lifestyle to that of the Tiffany & Co. brand. Tiffany's says that despite the supermodel's busy schedule and brilliant appearance, Liu Wen is still pure and simple at heart. It is this lifestyle that Tiffany & Co. continuously pursues and displays through its products.
The second post tags @wangxiaohui and compares the artist's photography to Tiffany's jewelry. Tiffany's focuses on Wang's ability to show the beauty and soul of ordinary objects, and relates her use of visual words to express truth to the way in which Tiffany crafts its jewelry pieces.
Creating connections between popular Weibo users (@wangxiaohui has over 1,010,000 followers) and the Tiffany & Co. brand is a great way to attract new followers. It also allows them to target specific groups within the Chinese market because the people they tag are followed by users with similar interests. Tiffany is then able to construct an identity for their brand by tagging relevant and popular users. In the above examples, tagging a super model and a photographer allows Tiffany & Co. to present themselves as interested in fashion and visual artistry, thus making them appealing to people with similar interests.
Tiffany & Co. also uses Weibo for customer service purposes. This post (right) is targeting the wedding season  and is encouraging people to be dazzled by Tiffany's diamonds. It is promoting their consultation services, in which you privately meet with a diamond expert to help you pick the perfect engagement ring. This post provides the contact information (website and customer service phone number) needed to book an appointment.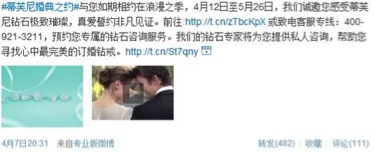 Posting customer service options on Weibo is a great way to engage Chinese consumers because it brings important information to users, thereby saving them the effort of having to actively search for it on the Tiffany's website. The immediacy facilitates fast and easy connections between Tiffany & Co. and its clients. Connecting the consultations with a specific time period creates a frame of reference that Weibo users can connect with. Once the connection is established, Tiffany's immediately follows through by providing a clear course of action to take with the necessary resources.
Coach
Coach is one of the top brands on Sina Weibo. With over 640,000 followers and more than 3200 posts, it ranks 4th out of 27 global luxury brands in the Chinese market1. Out of the 27, Coach was deemed the "Most Digitally-Competent American Fashion Brand in China". Their Sina Weibo involvement focuses on interacting with followers and running mini-campaigns.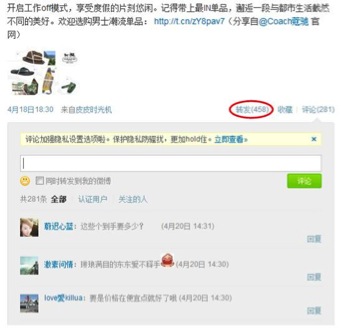 Above is one of Coach's posts. It encourages people to get off from work and enjoy a vacation with the "most in" Coach accessories. This single post, which garnered 281 comments and 458 reposts, is an example of Coach's extreme popularity on Sina Weibo.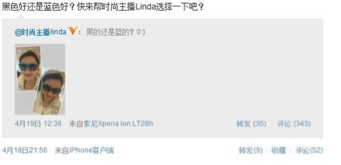 Coach is a successful brand because it effectively interacts with users. One of the ways in which they do this is by reblogging and commenting on posts by other users.
To the left is a post by a user that Coach has commented on. They comment that this look is great for spring/summer styling and then repost it.
Another way of engaging with users is by reblogging and commenting on posts by "Daren". "Daren" are popular, high-profile Weibo users who have many followers. Their popularity, and thus visibility, distinguishes them from the regular users that Coach interacts with.
In this image (right) Coach has reblogged a post by @jiangjinfu. This user is a model posting about the style of the Coach spring/summer collection. In addition to reblogging this post, Coach also comments on the original post which furthers individual interactions.
By focusing not only on its own posts, but the posts of other high-profile users, Coach is able to extend its visibility and reach more Chinese consumers. In addition to interacting with its own followers, Coach is now enabled to engage with the followers of each "Daren".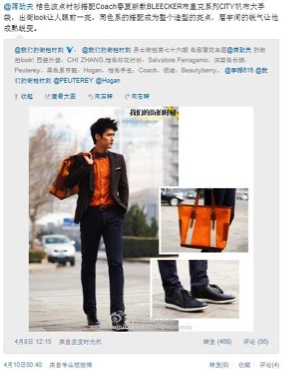 Similar to Tiffany's use of celebrity connections, engaging with "Daren" allows Coach to establish a brand identity by associating with people associated with certain interests.
Coach also interacts with its followers by running mini-campaigns. They are geared specifically towards Weibo users and rely on these users' involvement. The following post asks users to post a picture of what is in their bag. Their post must use the hashtag #whatisinyourcoachbag and tag @coach. Doing so enters them in a contest to win a "special gift". This particular campaign generated over 150 posts, and the original Coach post was reblogged 419 times and had 182 comments.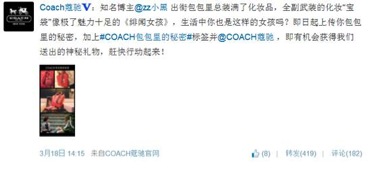 This campaign is a great way of encouraging its followers to get involved because they have provided an incentive for engagement. It is also intelligent marketing because it is the Weibo users who display the products. Not only does it show that many people are already engaged with the Coach brand, it allows Coach to display a wide variety of their products (as each user is posting the particular bag that they own). This helps Coach gain wider appeal because the campaign presents the brand as already popular, while the variety makes it more likely that other Sina Weibo users will see something they like. It also expands Coach's visibility because these posts will be seen by each users own followers.
Though The North Face, Tiffany & Co., and Coach each utilize different techniques to gain attention and followers on Sina Weibo, the overarching strategy is to engage the individual. With over 500 million users, Sina Weibo reaches many Chinese consumers, each with varying interests and needs.
The key to successful involvement on Weibo is the same as on any social media platform:
1) To create content that is relevant and engaging
2) To share posts that deliver interesting information while also facilitating further interaction with users. This can be anything from running online contests or asking questions to tagging other users or reblogging and commenting on their posts.