On September 20th 2018, Alipay announced the release of a full beta version of its mini program. This debut came after months of open beta testing, finally launching for all developers one year after the release of WeChat's mini program.*
When debuting their mini program, WeChat took the approach of "welcome and refuse." Contrary to this ambiguous approach, Alipay has opened multiple access channels. Users can find and access mini programs through the following methods:
Scanning a QR code offline
Searching for a brand name on the Alipay App
Searching for "mini program" in the Alipay App and accessing the Alipay mini program's home page
Accessing mini programs that were shared by others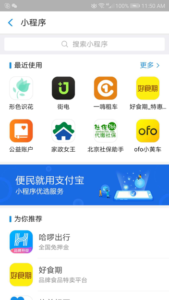 In addition to these access channels, once users use mini programs, these programs can be easily found under the Alipay "friends" tab.
Because of Alipay's long-term, cooperative relationship with the government and livelihood sectors, the Alipay mini program accesses industries like travel, medical health, government services, and city life.
Because of its 2B achievement within the aforementioned industries, Ant Financial has its own accumulated advantages. At its core, Alipay supports B-side merchants by combining related businesses, technologies, and product logic.
At first glance, Alipay and WeChat mini programs seem similar. Let's take a look at four key points: payment, credibility, big data, and security.
Among the four, a huge advantage of the Alipay ecosystem is its credibility, especially when compared with WeChat payment and its mini programs. Alipay allows users to pay deposits online, in wide-ranging industries such as travel, hospitality, and transportation. Business owners should consider creating a presence on Alipay to facilitate the payment process and drive traffic to their businesses.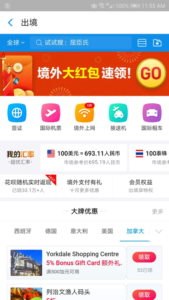 To see this in action, let's take a look at Ofo, a Chinese-based bicycle sharing company using the Alipay mini program. Ofo integrates QR code scanning, real-name authentication, user credibility, and insurance within its Ali-ecosystem. In fact, the number of newly acquired users has increased by 6 times since the launch of Ofo's Alipay mini program. And, that was only 4 months ago.
Since launching, the Alipay mini program has not reached the wide range of industries that the WeChat mini program has. Instead, Alipay has focused on the industries and enterprises that it has previously collaborated with. This is especially evident in the travel industry, which is highly tied up with its Sesame Credibility system. While creating successful mini program cases, Alipay is simultaneously improving its products, technologies and services, further expanding into other sectors and industries.
Both Alipay and WeChat have turned to utilizing offline traffic as their main strategy. The creator of WeChat, Zhang Xiaolong, developed a feature to drive O2O traffic through conveniently scanning QR codes of corresponding merchants' official accounts. However, offline traffic didn't pick up until WeChat released the "nearby mini program" function in its search tool.
Compared with WeChat, Alipay has no clear advantage in gaining traffic, but it has accumulated a large number of offline merchants through word of mouth references over the past years. Ultimately, Alipay's client base in B-side may become its winning factor when expanding to merchants. Alibaba is also more experienced than WeChat in providing a complete business solution for business merchants.
At the moment, WeChat's social and content marketing is superior to Alipay's. Ant Financial has stated that the Alipay mini-program will gradually open up to more industries in the future, but will not involve social media and content.
Social engagement is the foundation of the WeChat mini program. Just looking at the group social, personal social, and friends circle of the WeChat mini program, it's clear that the WeChat mini program gains the majority of its traffic through social engagement. Even untypical mini programs like "together with force," "flashing," and "seeing you with words" are likely to stand out with their rich content and strong social-engaging attributes.
In addition to this, WeChat has moved into Ali's territory- e-commerce- with its mini program. Many brands have begun to use mini programs to launch their own e-commerce storefronts, such as DFS and JD. "E-commerce is one of the key direction that WeChat has been trying to do in recent times," said a close affiliate of the WeChat team. In addition, Tencent has just launched its own credit system for QQ members, paving the way forward for e-commerce.
Today, Alipay and WeChat are neck and neck. WeChat is likely to leverage its initiative and strong social networks in order to reach a much wider audience. In the meantime, Alipay will make gains with its word of mouth advantage and ability to provide complete business solutions to offline merchants.
What does this mean for business owners? Forget choosing between Alipay and WeChat mini programs. Your best choice is to utilize both for your business.
*What are WeChat mini programs? They are "sub-applications" within WeChat. These sub-applications can support a multitude of functions such as reservations, online payment, e-concierge services, and much more. In this way, WeChat runs like an operating system on the phone, and the sub-applications become the "apps" of this operating system.
Here are the main features of WeChat mini programs:
No App Store needed: official accounts have built-in mini programs which are searchable via WeChat
Cloud-based: no installation is required on phones
O2O: converts offline clients to online
Fast speed, light-weight