Doing business in Quebec? Does your brand name have a French version?
If not, read on…
Signage regulations in Quebec state that brands doing business in Quebec must have French wording to accompany their brand name, if the latter is in English.
Rules surrounding French wording on signage, put in place in 2016, will have to be followed by all businesses by November 2019. The regulations specify that there must be a sufficient presence of French on signs and posters.
The rules do not require that non-French trademarks be translated into French – just that they must have a "sufficient presence of French" on the sign (or nearby).
Under the regulations, businesses with a trademark name that is not in French would be required to add a French word, description or slogan to their signage. For example, "Second Cup" in Quebec is "Les Cafés Second Cup".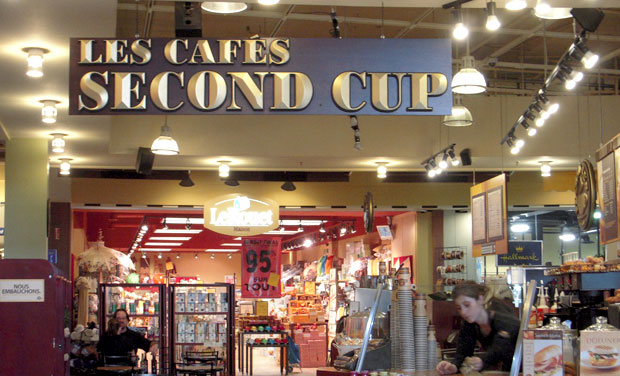 The presence of French requirement can be fulfilled by adding a sign or poster that includes:
a French generic term or a description of the products or services concerned
a French slogan; or
other information in French about the products or services offered to consumers or persons frequenting the business (excluding things such as business hours and addresses)
The regulations also do not require the additional French on signs to be predominant over the non-French sign, or even that it be the same size. However, the French signs must have permanent visibility that is similar to that of the trademark displayed, and must use the same materials and lighting as the non-French sign. The province says that the added French words must be well-lit at night.
These regulations are to ensure the presence of French where commercial signs and posters display trademarks exclusively in a language other than French.
Conformity Issues
The Office of the French Language (OQLF) only investigate conformity issues in the case of a complaint.
In Quebec, the OQLF receives approximately 3,000 complaints a year. One-third of these complaints relate to commercial signage, for which fines for non-compliance range from $1,500 to $20,000.
Of all the complaints received by the Office for 2015-2016, 33% were found to be unfounded or inadmissible and in 35% of cases the situation was corrected by the traders.
To learn more about Law 101, which makes French the official language of Quebec, click here.
Sources: https://www.mcc.gouv.qc.ca/index.php?id=5833
https://ici.radio-canada.ca/nouvelle/779392/langue-affichage-marque-commerce
https://ici.radio-canada.ca/nouvelle/1057154/anglais-commerces-quebec-reglementation-loi101
https://www2.publicationsduquebec.gouv.qc.ca/dynamicSearch/telecharge.php?type=13&file=1645-F.PDF#page=6