First published on November 1st, 2016 by Helene Huang
If you are reading this blog, it is likely you have already heard of WeChat. If not, here is a quick snapshot of what WeChat is all about:
WeChat is a mobile app created by Tencent, a Chinese company. It was launched in January 2011, initially as a messaging platform for users to communicate with family and friends, much like Twitter and Facebook. After over five years of development, WeChat has now become a mobile giant, providing communication, media, payment, entertainment, and other useful day-to-day services to over 650 million users in 200 countries.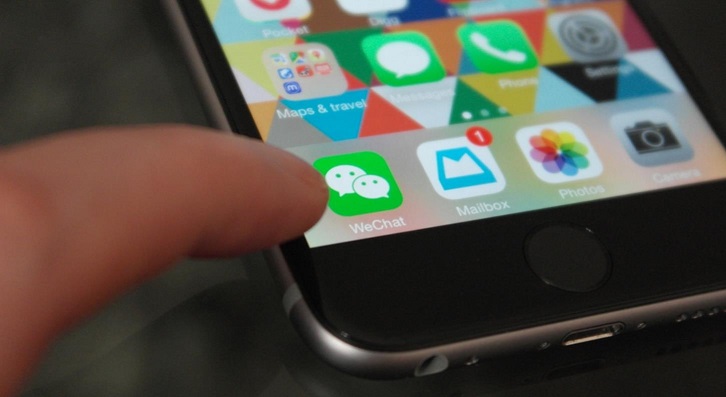 In March 2016, Tencent Penguin Intelligence (the research branch of Tencent) published their 2016 WeChat Impact Report – an annual report describing the latest behaviour and trends of WeChat users. Below are some
highlights
from the report that you might find interesting:
WeChat continues to expand its huge, active, and high-value user base.

As of September 2015, WeChat had 650 million monthly active users, up 30% from December 2014. To put this into context, this is almost 20 times the population of Canada (36 million in 20161) and is double the population of the United States (est. 324 million in 20162).
81% of users are employed, implying stable income and purchasing power.
94% of users use WeChat daily, and 78% spend 30 minutes or longer every day on WeChat.

Socializing and sharing information remains the number one function of WeChat.

Most users have more than 50 WeChat friends (79%), and more than half have over 100 WeChat friends (55%).
Browsing and posting on Moments (58%), sharing information (53%), and reading content via followed public accounts (40%) are the top three activities on WeChat.
Users generally prefer viewing pictures (51%), reading text (50%) and watching short videos (45%) on WeChat, while notably fewer users (22%) like reading articles on Moments – making it more challenging for corporate content providers.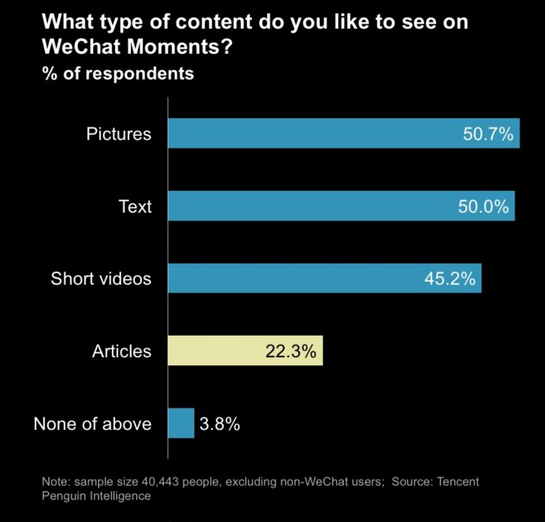 The vast majority of users (91%) use WeChat's payment functions, which distinguishes WeChat from a mere social media app.

200 million users, or 29% of total users, link WeChat with their bank card.
Digital Red Envelope money is the most frequently used payment function (85%).
Almost 60% of users use WeChat to make various types of online payments, with most using it to pay telephone bills (47%).
57% use WeChat to transfer money to WeChat contacts.
Among those who use WeChat payment functions, 67% spend more than 100 RMB per month; 34% spend more than 500 RMB per month, up from 5% in 2015.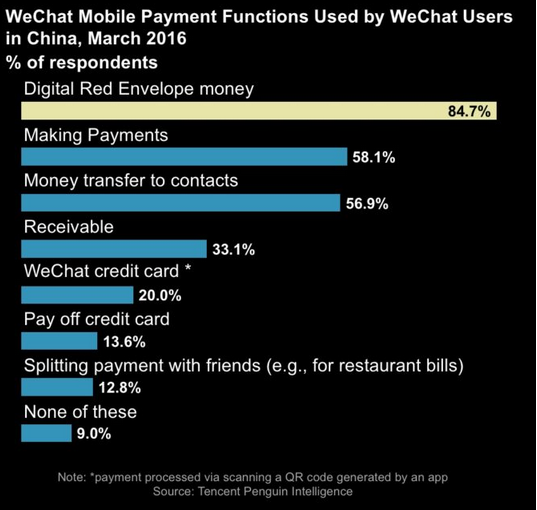 More Official Accounts have been registered for business use compared to 2015, to facilitate information sharing, marketing campaign, and customer service.

There are 10 million WeChat "Official Accounts", up approx. 25% from 2015.
More operators are purchasing Official Accounts (64%), compared to 2015 (53%).
73% of Official Accounts are registered by business entities, over a wide variety of industries.
Most Official Accounts are used to release product & service information (85%), followed by marketing campaigns (64%), and client interactions (46%).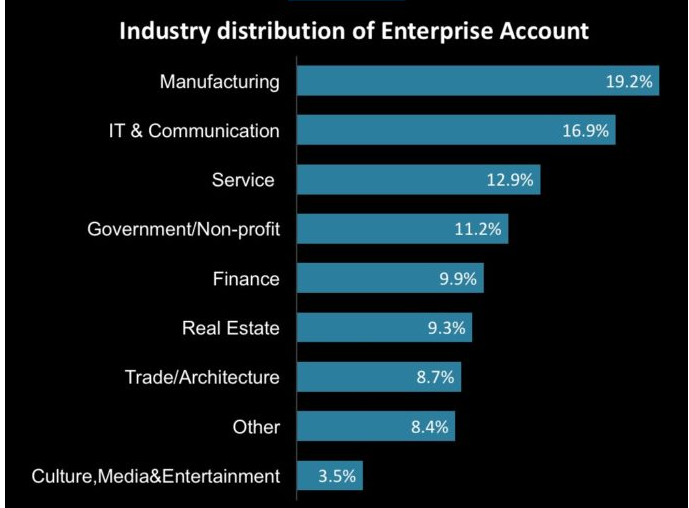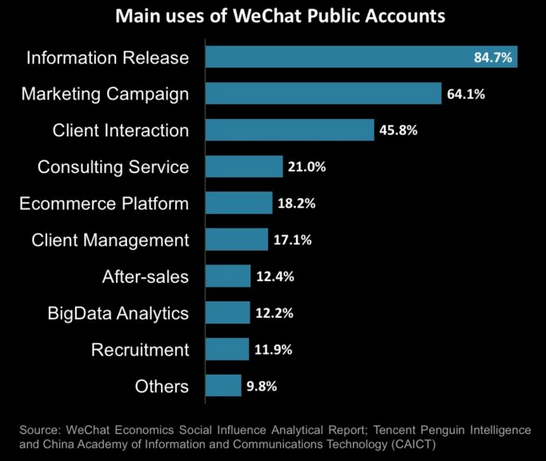 Want to learn more about WeChat and the latest trend on Chinese consumers?
Sign up for our WeChat 101 class
and learn from the pros!
Sources:
[1] Wikipedia, 2016, Demographics of Canada, retrieved on October 29, 2016 at https://en.wikipedia.org/wiki/Demographics_of_Canada
[2] Wikipedia, 2016, Demographics of the United States, retrieved on October 29, 2016 at https://en.wikipedia.org/wiki/Demography_of_the_United_States
– 2016 WeChat Impact Report by Tencent Penguin Intelligence and China Academy of Information and Communication, https://tech.qq.com/a/20160321/030364.htm