Porsche Centre Vancouver
Emily Larson
2020-03-30T16:57:45-07:00
Project Description
Case Study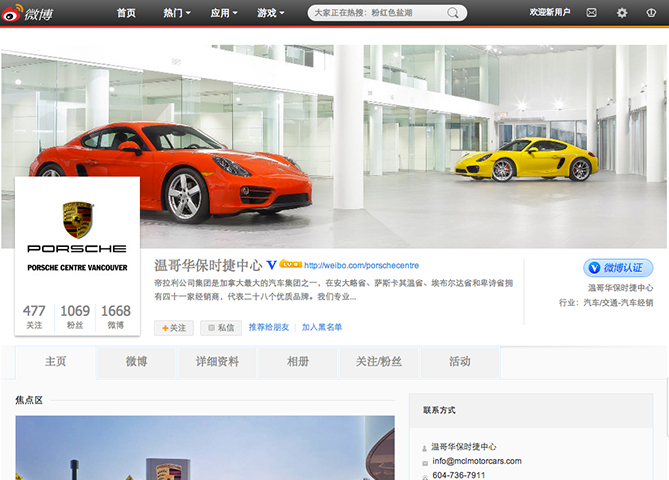 Our team worked with Porsche Vancouver to develop a marketing strategy that would increase engagement with local Chinese immigrants and make them the "go to" dealership for Vancouver's Porsche enthusiasts.
Porsche Vancouver wanted to attract buyers to its location on West 3rd, but had trouble reaching Chinese consumers. As a brand, Porsche Vancouver was quite popular on Chinese social media sites, such as Sina Weibo, but they needed an effective way to interact with this audience. They needed a Chinese social media strategy and the language expertise that would allow them to capitalize on Porsche's pre-existing popularity with Chinese newcomers in Vancouver.
Since Porsche Vancouver was already gaining attention on Sina Weibo, our Chinese social media specialist created an official account for the dealership on Sina Weibo. We then proceeded to create relevant and engaging content specifically crafted for Porsche Vancouver's target market. Our team tracks the account's performance and adapts the strategy accordingly. In addition, we promote follower interactions by replying to comments and reposting other users' content. This activity has steadily grown Porsche Vancouver's base of active followers and generated sales.
An integral part of the Sina Weibo campaign is creating original Chinese content in addition to translating English material. Our team uses its cultural marketing expertise to ensure that any content posted is relevant for their target Chinese audience. By studying interactions on Weibo by Porsche Vancouver's followers, we are able to track their interests and further tailor content to engage them.