Mercedes-Benz Canada
Laura McLeod
2020-07-16T07:39:19-07:00
Project Description
When Mercedes-Benz Canada wanted to engage with Chinese customers in Canada, they relied on LAT to help them launch a Tencent Moments ad on the popular Chinese app, WeChat.
Working in partnership with Mercedes-Benz' global advertising agency, LAT started by registering an official WeChat account for Mercedes-Benz Canada, which is a requirement for advertising on Moments. Our team then opened an ad account and coordinated the placement of a video ad, aligned with Lunar New Year. LAT coordinated the account approval process with Tencent, helped define the advertising demographics, monitored the campaign and reported on results. We also created high quality and graphically appealing content in the form of four articles about their vehicles to ensure visitors would find the WeChat official account appealing.
During the one-month campaign, the ads achieved 991,757 impressions, 9,333 video clicks and 1,152 new followers. In addition, there were 108 direct inquiries, most of them from people interested in making a purchase, asking questions about the models, or seeking maintenance advice.
Elements of a WeChat Moments Campaign
A QR code is used to direct users to the official Mercedes-Benz Canada WeChat account:

A graphic Moments ad (video) with Lunar New Year theme was posted.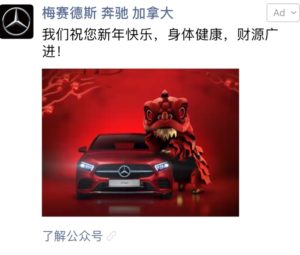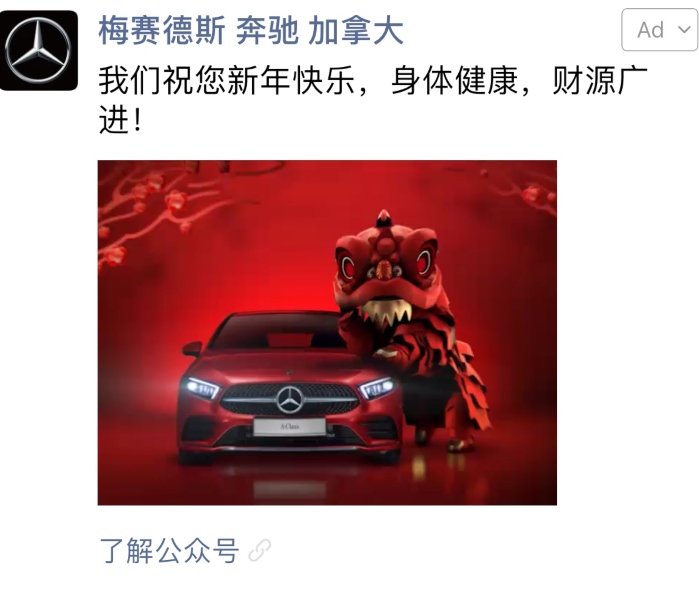 High quality content was added to the WeChat account: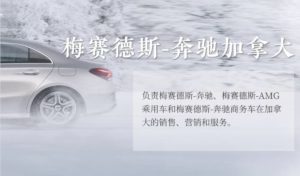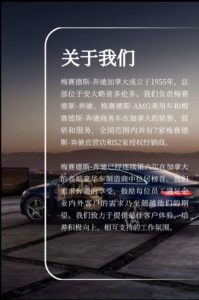 We've developed Chinese digital marketing strategies for several high-end vehicle brands such as Mercedes-Benz, Porsche, Aston Martin, Bentley, and more. Contact us to learn more about our monthly packages.