Engaging with Chinese customers on WeChat for Mercedes-Benz Vancouver
Sinead Sprigg
2020-04-28T12:30:06-07:00
Project Description
….
In the first quarter of 2017, Twitter averaged 328 million monthly active users. In the same quarter, WeChat had 938 million monthly active users making it the "must have" tool to reach the Chinese community. Not only does WeChat let you engage with your Chinese customers instantly, it also lets you share relevant content, news articles and product information — all strategies that will grow consumers' trust in your brand.
Mercedes-Benz Vancouver knows the value of customer engagement, and LAT recently helped them up their game by being even more responsive and welcoming to clients on WeChat.
Using WeChat for improved customer service
Originally when LAT received a WeChat client inquiry for Mercedes-Benz Vancouver, we had to tell the client to telephone the call centre. This meant the client had to move from the WeChat app to the call centre, change language to English then back to Chinese again, all which involved multiple steps and the possibility of losing the client in the conversion process.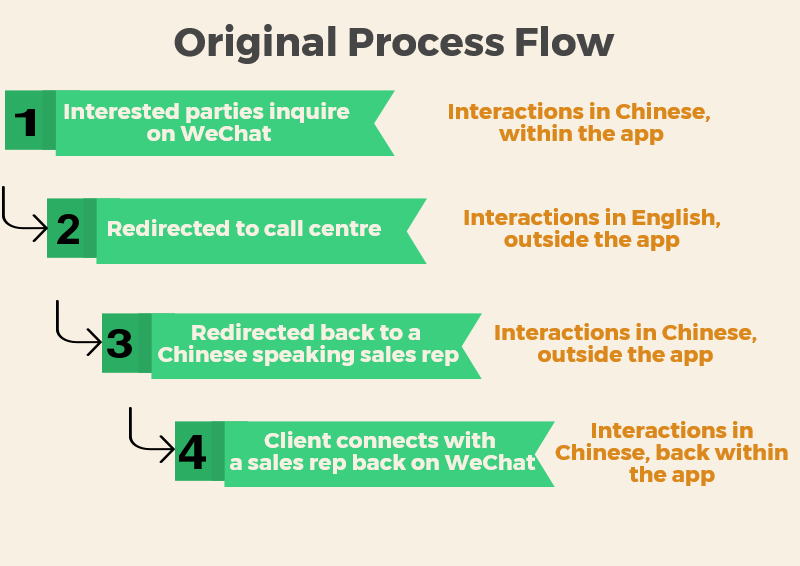 How LAT improved engagement & customer experience
To solve this problem, our team trained the sales team at Mercedes-Benz Vancouver on the in's and out's of the WeChat app, so they could easily engage with customers and quickly respond to their online enquiries.
Since the training, clients no longer need to switch platforms OR language. Once LAT has the inquiry, we forward the client's contact info to a Mercedes-Benz sales professional, who then contacts the client on WeChat.

This has resulted in better, faster customer service, and fewer conversions in the inquiry process, resulting in higher client retention
With the help of social media, you can directly engage with your client in a responsive, approachable way. Customers like to see a friendly brand being actively engaged.
Let LAT help your brand engage with a larger audience.