Allard Prize for International Integrity
Emily Larson
2020-03-31T14:36:45-07:00
Case Study
Our team worked with the Law Department of the University of British Columbia to translate their website featuring the Allard Prize for International Integrity. We localized content into 10 languages.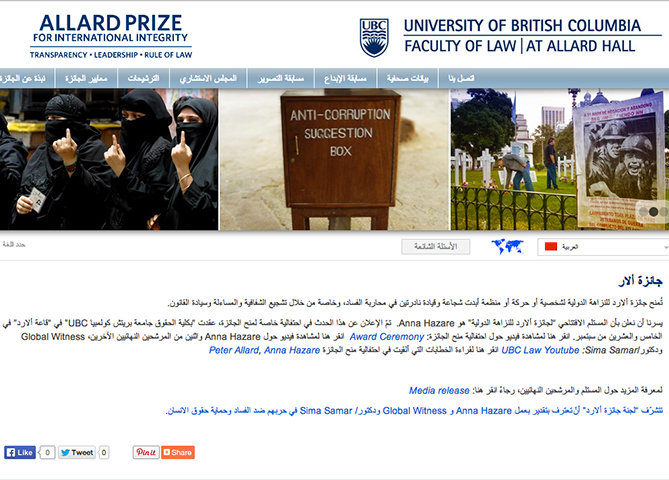 The University of British Columbia commemorated the opening of its new Faculty of Law building (Allard Hall) by introducing the Allard Prize for International Integrity. The prize, beginning in September 2013, is given to those who demonstrate "exceptional courage and leadership in combating corruption, especially through promoting transparency, accountability and the rule of law." UBC created a website featuring the prize, but in order to reach an international audience they needed high-quality translations of their English content into multiple languages.
We used our vast network of in-market translators to localize the
Allard Prize for International Integrity website
 in time for its inaugural year. Our team worked with the UBC Law Department to translate all English content into French, Spanish, Chinese (Simplified and Traditional), Cantonese, Japanese, Portuguese (Portugal), German, Russian, and Arabic.
We used our proven systems and tools to process the large volume of words in multiple languages. Our team ensured that each page was translated with the highest quality, and that the content was localized for each linguistic community so that UBC and the Allard Prize got the greatest exposure.