First published on September 12, 2014 by Michaela Baer If you've visited the LAT website or blog recently, you may have noticed our new design. We've spent the past few months redesigning our website's look and feel with the ambition of making it easier to navigate and more representative of who we are.
During the redesign process there were a few clear changes we wanted to make. We knew that we needed to move away from stock images and instead focus on original visuals. We knew that we wanted the language and the images on our social media accounts to reflect not only what we do, who we are and, most importantly, why we do what we do — and why we love it.
We had some excellent help from our long-time graphic designer Pascal Bouchard in designing the layout of the website, but to figure out what kind of images to use, we needed a clear vision.
Who is LAT?
After a much needed soul searching process (inspired by Simon Sinek), where we carefully examined our shared passion and engagement, the brand and personality of our company started emerging and, gradually, our corporate identity materialized and our visual brand became much easier to pinpoint. We all agreed that we wanted images that spoke to the cultural vibrancy of the places where we live and the magic of connecting communities. Here's what we came up with, as our belief statement:
"We believe in finding innovative ways to engage communities and create opportunities. When it comes to communication – speak their language, reach their heart."
With that in mind, I brought a few options for a homepage banner to the team that I hoped would convey elements that we loved about language and diversity through a clear and crisp design.
Home banner design mock-up 1


____________________________
Home banner with service buttons mock-up 2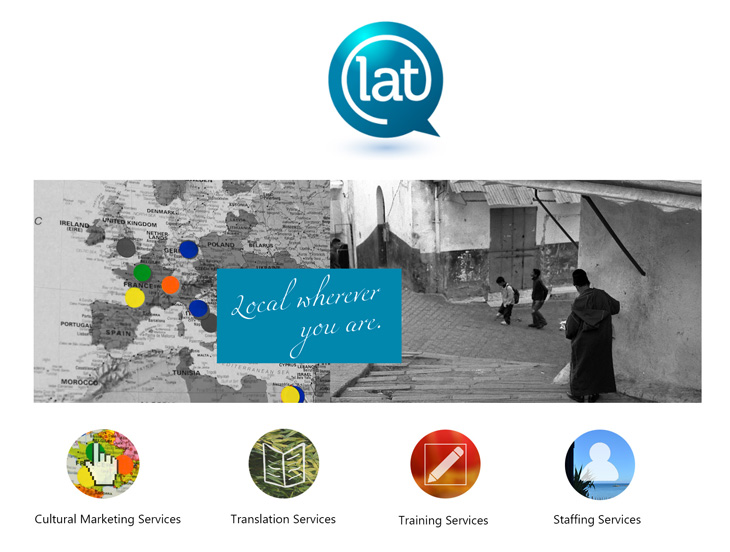 The first two sets of images that I brought to the team were well-received, but seemed too far removed from the bustling cities of Vancouver, San Francisco, Toronto, Montreal and Quebec, where we live and work, and didn't quite represent the team's passion for connecting people.
Back to the drawing board.
Subsequent images were examined and dismissed: they weren't conveying the warmth and human element that we were after. After a few stages of trial and error, it became clear that the right images for LAT would be ones that spoke visually to what we had described about ourselves in language: warmth, connection, and diversity.
Doing this required more intimate images. Instead of a busy street scene, we opted for quiet moments: people checking their phones, working with friends, or shopping. Instead of a banner, we decided to pick a few images to represent our core services. We made selecting our images a team effort and asked all of our staff members to pick their favourite ones. It was surprising how much natural concurrence there was in the image selection process!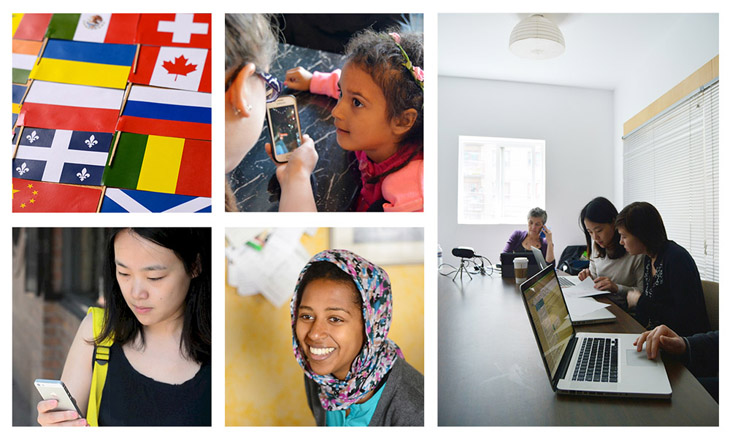 Social Translation
Once we had settled on the images we wanted to use for the website, we took some of the images from our redesign process and adapted them for our social media accounts.
Banners for our Google+, Facebook, Twitter, and LinkedIn accounts were created using images from our website with the intention of conveying warmth, connection, and discovery. The banners are crisp, vibrant, and clear.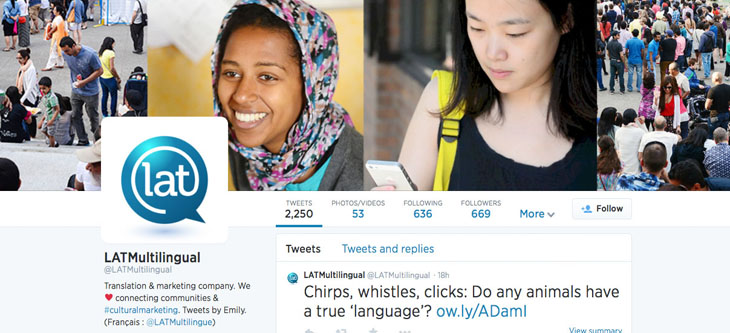 ____________________________
Visuals & You
A solid visual identity is one more way to build your company's brand. The right image has the power to convey potent ideas about who your company is and what it stands for, and to help customers remember who you are. Want to start incorporating more visuals into your brand's online presence?
The first step is to define your company's image. Visuals should convey who you are: your company's mission, vision, core beliefs and values; and what makes you unique. If you have a good sense of this, the image side of things will fall into place naturally. Ask yourself:
How would I describe my company in three words?
What feeling do I want my client to leave with after they've completed a project with me (or bought one of my products)?
What are my company's goals for the future?
Who is my market?
The answers to these questions will help you figure out what kind of visual identity your brand should have. Stumbling a bit? It might help to think of your brand as a person: who is she/he? What does she/he like to wear? What does she/he do? How does he/she relate to people? Why is she/he liked?
When tailoring your visual identity, it is vital to know who your market is, but it is equally important to know who you are. Having a solid sense of your corporate identity will help you find images to represent your company that are authentic and relevant. If at all possible, make sure to involve both your core management team and wider team in this process so that everyone feels connected to the company's voice.
Happy visual branding!
This is the first in a series of blogs examining corporate visual identity. The next blog will provide an introduction to some of the most popular image-based social media platforms around the world.