By 2021, companies selling food products in Canada will need to adapt to new bilingual label requirements. Here's what you need to know…
In December 2016, Health Canada introduced changes to the Food and Drug Regulations regarding nutrition and ingredient labelling and food colour requirements to make nutrition information on food labels more useful to Canadians.
The industry has three years (until 2021) to adopt the new requirements. Amendments dealing with food colour specifications and the removal of synthetic colour certification requirements came into effect immediately.
You may have already crossed several legal hurdles with your labels and packaging, but before you go to print make sure they are meeting Canada's newest requirements with our quick 'cheat sheet' to help you get your labelling right.
1. Is the Nutritional Facts table consistent with the latest model?
(See here for the latest model)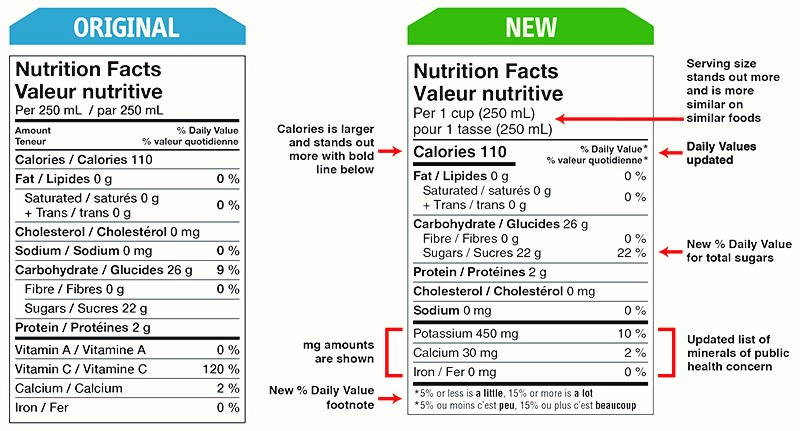 2. Are the ingredients listed as required under the latest Food and Drug Regulations?
(See here for the full regulations)

Titles "Ingredients" and "Contains" in bold

Allergens declared with the "Contains" element

Words in lower case
BUT
Each ingredient begins with a capital letter (except those in parentheses)
Individual sugars[i] grouped as a single ingredient
Ingredients separated by a bullet (except those in parentheses)
White or neutral background
Food colours listed by name (NOT by number;g. "Red No. 40" => "Allura red")
[i] All of the following are considered "sugars-based ingredients":
molasses, or treacle (fancy molasses, blackstrap molasses, black molasses, etc.)
sugar (white sugar, beet sugar, raw sugar, brown sugar, light brown sugar, dark brown sugar, etc.)
glucose or fructose syrups (glucose-fructose syrup, high fructose glucose syrup, etc.)
cane sugar syrup, or sugarcane syrup (cane syrup, cane juice extract, evaporated cane juice, etc.)
corn syrup (high fructose corn syrup [HFCS], corn syrup solids, etc.)
maple syrup
agave syrup
honey
barley malt extract
monosaccharides and disaccharides (dextrose, fructose, galactose, glucose, glucose-fructose, isoglucose, lactose, maltose, saccharose, sucrose, etc.)
fruit juice concentrate, purée concentrate (apple puree concentrate, etc.)
And here is the full reference table for nutrition labelling.
Whichever market you want to sell your products to, LAT's professional writers and translators live and work in your target market, ensuring your brand will be well represented on labels, advertisements, and social media pages.