AECOM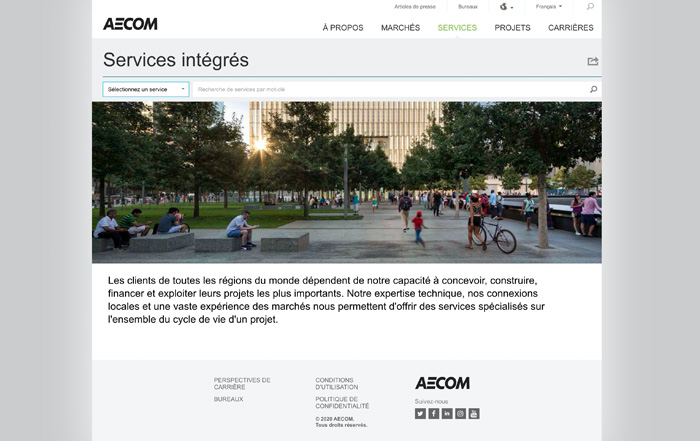 AECOM is one of the world's largest engineering firms, delivering design, planning, engineering, consulting and construction management solutions around the world. The firm frequently needs to communicate highly technical content quickly and effectively, to both employees and to clients, in multiple languages.
Given the language laws in Quebec that require all internal communications to be translated, LAT plays a significant role translating internal communications. As an example, LAT has translated information pertaining to employee benefits for many years, and recently translated the Wellness at AECOM website which provides information to Canadian employees around their benefits program. LAT also works on external-facing documents such as proposals, reports, etc related to their Quebec client work. We've worked with AECOM's departments across North America to provide clear and accurate localization of training materials, audio and video content (including subtitling and voice over), web pages, proposals, and weekly internal newsletters in various languages.
By putting together a strong team of specialized language professionals, we ensure that AECOM's translation projects are delivered on time, without ever compromising on quality.
I want to reiterate the value we place on LAT's service and responsiveness. In the three years I've been involved with the Americas' communications efforts, I cannot recall one incident in which you haven't met our requests. For this I thank you. I look forward to our teams continuing to work together productively in the years ahead. 

Frank Pollare
Vice President, Communications, Americas
AECOM