In May 2013, after our identity change and the launch of new services, we decided to replace LAT Multilingual's website. We did not yet realize what an adventure was ahead of us!
Building a multilingual website can be a long and painstaking project if it is not well thought out at the beginning. Based on the experience we encountered in developing our site, we suggest the following five-step process to ensure success.
1) Know your audience in order to determine the content and languages to use
Whether the site will use only one language or many, the first step consists in identifying the audience you want to reach, knowing who you are speaking to, and thus answering the question, "Why put in place a multilingual site?" In our case, the answer was quite simple. We are a translation and cultural marketing company. It is important to demonstrate our know-how in this field. Also, websites are the foundation of a good multilingual social networking strategy. Before you can communicate about social media in many languages, your audience must have a reference site to consult in order to find your services.
This step is crucial and requires asking yourself a few questions. Marketing plans are a very useful took when you have to identify your target areas. Once this step has been completed, the content and languages to use will be clear to you.
2) Use the primary language for writing the content
Once your target audience has been identified, you can begin to write the content in your site's primary language. As the majority of our clients are in English-speaking Canada and the United States, we opted for English.
Next, we opened Word. Yes, Microsoft Word! It is not necessary to start writing directly in WordPress or in another Content Management System (CMS). It is preferable to use a template that contains all the information on each page, that is:
Title of the page (HTML tag "title")
Description of the page (HTML tag "meta name=description")
Title of the content (HTML tag "h1")
Content
Media associated with the page (pictures, videos, etc.)
Useful keywords for good referencing (Google has not used the tag "meta name=keyword" since 2009. Some research engines still use it.)
Once this document has been completed, it is very easy to access the entire content in the language selected. It is also an easy format for translators to grasp.
You can download our website copy deck template free of charge here:
3) Translate the content into other languages
Is the text for your site ready in the primary language? A good thing to have accomplished! You now have to translate your content. Or rather, localize it. What is the difference between the two? Translation is simply the transposition of content into another language. Localization includes translation, plus adaptation to the standards and culture of your audience. To learn more about this subject, read this article that explains the two concepts of translation and localization.
Before sending your content for translation, it is important to adapt the content for the targeted audience by adding or removing certain pages or parts of your website. For example, for LAT's site, we eliminated the page "French Canadian Translation" on our French site. There is no need to offer this service to our Francophone clients.
For the translation, we recommend that you call upon a professional company. Translators know the subtleties of language, and will be able to localize your content so you can better reach your audience.
4) Create your multilingual website
Your content is finally ready. Congratulations! It is time to put your multilingual site online.
Many solutions are available to you at a lower cost. In all cases, it is best to surround yourself with people who know the basics of Web development, and who are prepared to take a hands-on approach. Here are some of the tools that you can choose from.
1. WordPress with the use of a multilingual plugin
WordPress is the Content Management System that we recommend. It is an easy solution to put in place, and not very costly. Many tutorials are available online, and the community is very active. In addition, it is easy to find someone who will be able to help you with this system. Give preference to professional topics that are often ready to be localized.
WPML Plugin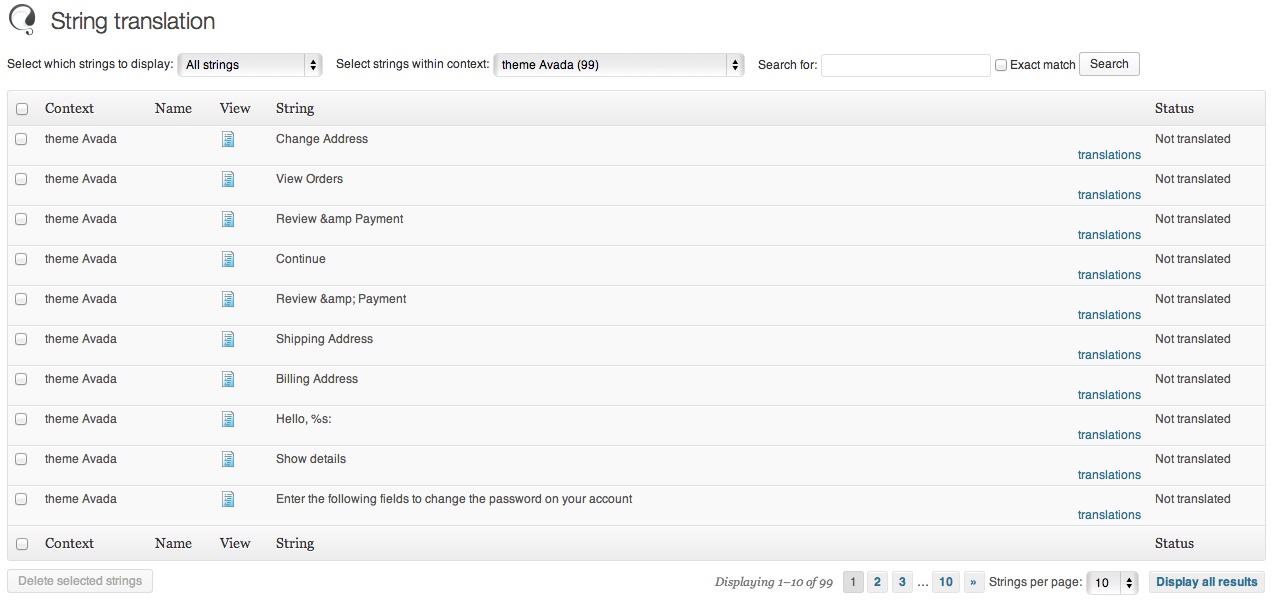 String Translation with WPML
This is the plugin that we use for our site. It makes it possible to duplicate your pages, publications, and various options in many languages.
| | |
| --- | --- |
| Advantages | Disadvantages |
| Very comprehensive and stable plugin | Annual fee charged for the plugin licence |
| Active user community | Requires some technical knowledge to take advantage of all the functionalities |
| Ability to contact customer support | |
| Compatible with the WordPress SEO plugin and W3 Total Cache | |
Although fees are charged for this plugin, we highly recommend it. It is more of an investment given the time that you will save in implementing your site. Learn more about WPML.
Qtranslate plugin
Qtranslate is another plugin often used for WordPress sites in many languages. Translations of pages and publications are not duplicated, but are stored in the same posting.
| | |
| --- | --- |
| Advantages | Disadvantages |
| Free plugin | Less stable than WPML |
| Simple to use | Not many updates |
| | Less active community |
Multisite Language Switcher
Contrary to WPML and Qtranslate, the Multiple Language Switcher plugin makes it possible to link multiple installations of WordPress.
| | |
| --- | --- |
| Advantages | Disadvantages |
| Free plugin | Management of many sites |
| Better stability for WordPress | Requires good technical knowledge |
Joomla
Since version 2.5 of Joomla, multilingual website management has been native. You can therefore manage many languages directly in the Joomla interface without downloading a plugin.
As we are not very familiar with Joomla, we will not expand on this point. However, this solution seems stable and very efficient. Many tutorials are available on line.
Revising your site is not an optional step!
If you have reached the end of the first four steps, we can say that you have done 80% of the work (it took us three months at LAT!). The remaining 20% must not be taken lightly; this work entails testing and revising the content of your site.
As with the translation and localization, have your multilingual site revised by someone who speaks and understands the cultural differences of each language. The same language is not interpreted in the same way everywhere. For example, French varies between Quebec and France. For LAT's site, we made sure of cultural compatibility by having the content proofread by members of our translation team in Quebec and in France respectively. This step is essential for ensuring that your site is perfectly adapted to your target audience.
Of course, there will be changes, and you will find problems. A simple way of working is to use a software defect tracking system. At LAT, we use Mantis Bug Tracker, which is free and suits our needs perfectly.
The creation of a multilingual website therefore depends on knowing your target audience, and good content management from the outset of the project, then implementing an adequate solution that meets your requirements, and finally, revising your site to add the final touches.
Be sure to visit our page on Website Translation and SEO.