"One day you're in, the next day you're out."
That's a pretty good way to describe the Chinese social media landscape- this industry is fast moving, with new social media platforms rising to popularity at all times.
If your business wants to reach customers on Chinese social media, it's up to you to stay on top of current social media trends. Remember, understanding Chinese social media isn't just about understanding WeChat and Weibo!
Let's take a look at four up-and-coming Chinese social media platforms with huge potential for growing your business.
TikTok
TikTok is one of the most unique platforms popular in China right now. A short-video sharing media app, it hosts 500 million monthly users who produce, watch, and share creative videos among themselves.
Businesses can use TikTok to post advertisements and create new content— to be successful on this platform, you need to know how to create short, funny videos. Key Opinion Leaders can also be helpful here (KOLs), as they can create content for their large audiences which feature your brand.
(Source: https://bit.ly/2Ltd81u)
Take a look at the success of Ctrip, China's largest online travel agency. Ctrip partnered with TikTok to create a hashtag challenge during National Day. Users travelling during National Day shared their experiences on TikTok using Ctrip's sticker and tagged cities.
Ctrip received 4 billion views in one week from this campaign, and collected travellers' data for future marketing purposes.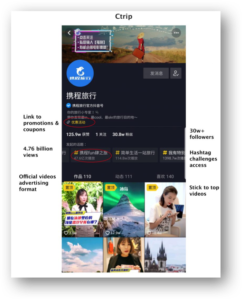 Xiaohongshu
This cross-border e-commerce and social media platform provides a bustling space for consumers to discuss new products, shopping experiences, and helpful tips. 30 million monthly users use Xiohongshu, with a target audience of mostly 18-30-year-old females living in Tier 1 and Tier 2 cities.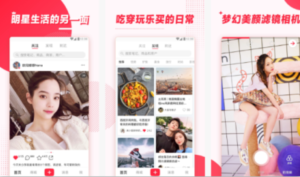 Not only does this site feature plenty of helpful information for the consumer, but it also doubles as an e-commerce site. On the homepage of Xiaohongshu, you'll find the most shared items available for purchase. Because of this, Xiaohongshu is especially influenced by individual users and KOLs, as their sharing controls what gets purchased the most.
That means that reaching individuals and getting them to talk about you is key to the success of your business on Xiaohongshu.
Zhihu
This question and answer website and social media platform hosts 35 million monthly users. A Chinese equivalent of Reddit, this platform isn't one for traditional advertising. However, businesses should be present on Zhihu to answer questions that relate to their industry, or post links to their company website and products. You'll need to maintain a delicate balance between having a presence on Zhihu, but not seeming too sales-oriented or self-promotional.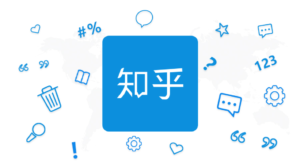 Top contributors on Zhihu have gained massive followings on this platform. Collaborating with them is a great way for brands to reach their target audience and impart a sense of trust in their readers.
Mafengwo
Mafengwo is a one-stop shop for Chinese travellers looking for a website that's both informative and allows them to book their travel experiences. It has 8.45 million monthly users, and its target audience is Chinese Free Independent Travellers (FITs). On Mafengwo, you'll find the latest travel information, Q&As and reviews. This site rose to popularity because users could share information about their trips and post their own content— it currently hosts more than 1 million user-generated travel guides. Potential travellers can also book hotels, travel destinations, and tours directly on the site.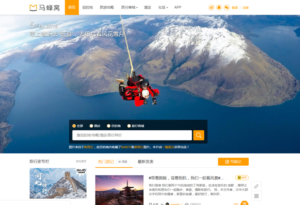 To market your business on Mafengwo, KOL promotion can go a long way. These seasoned travel experts are trusted greatly by other travellers, and are often willing to collaborate with brands to promote their products or services.
This is a great way to reach the often-elusive FIT demographic in China.
Get started now!
Understanding its wide variety of upcoming platforms is essential for your businesses' success in the Chinese digital market. To find out more info about emerging Chinese social media platforms, check out our latest resource.
Ready to start creating your Chinese digital marketing strategy? Contact us now!