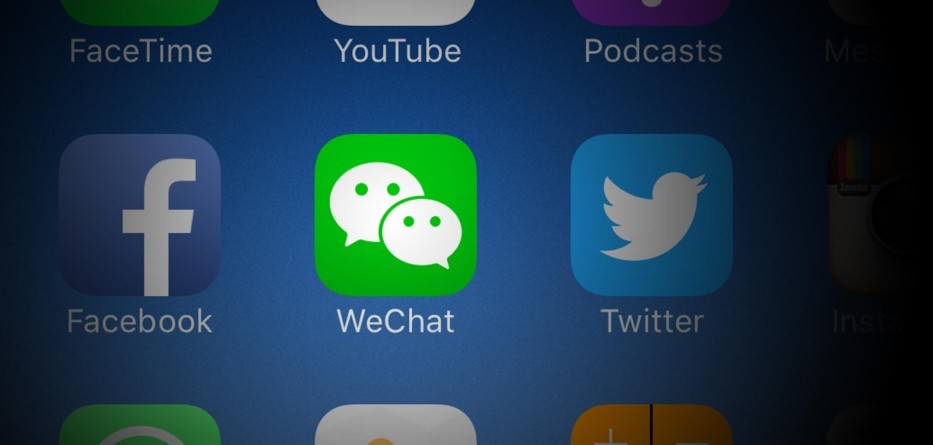 During the Lunar New Year holiday in February 2018, WeChat surpassed 1 billion users. Granted, the majority of its users are in China, but there are also 70 million users in 200 countries outside of China.
WeChat is incredibly powerful not only because of its functionality but its near universal usage in China: Ashley Galina Dudarenok, a China marketing expert who runs the world's largest business vlog about Chinese social media, recently referred to WeChat as "China's operating system", a statement which pretty much sums it up.
On WeChat, you can call taxis, play games, pay utility bills, send and receive money, chat with friends, make voice and video calls, split lunch bills, shop, book hotels and make online payments.
Why is this important for your business?
Facebook, Twitter and Google are blocked in China, so WeChat is THE platform for sharing photos, updates and connecting with existing and potential customers. Any North American business that wants to be found by Chinese customers needs to have a presence on this platform so that people know you exist, share your content, and ideally (if you have your own WeChat account) ask questions.
Having an 'official' WeChat account enables a hotel (for example) to market itself, and provide customer service to its clients such as accepting reservations or simply answering questions.
'I downloaded the app, now what?'
In a few clicks, you can download WeChat from your App store, and start fiddling with this multifunction tool. Like your individual Facebook though, it is not enough to rely on an individual WeChat account to use WeChat for marketing purposes. You need  an 'official' account.
Individual vs. official account
When an individual registers for an account, all that's needed is a phone number. Individuals have the possibility to instant message, send pictures and links and even call their contacts. Moments are also a key function of WeChat and are similar to a Facebook wall, as you can see friend's updates (videos, pictures etc.). You can only see likes and comments of people who are in your contacts, though.
An official account connects your business with your Chinese clients, while helping you inform them of your offers and grow your target audience. By posting engaging and fun articles, you can attract and retain customers. An official account is especially important for hotels or destinations that wish to reach guests even before they get on a plane.
What kind of account is right for me?
There are two types of official accounts on WeChat, subscription accounts and service accounts, but what's the difference between the two? They both help brands reach a target audience, grow their followers' database, raise brand awareness and drive sales.
The comparison chart below helps define the key differences between them: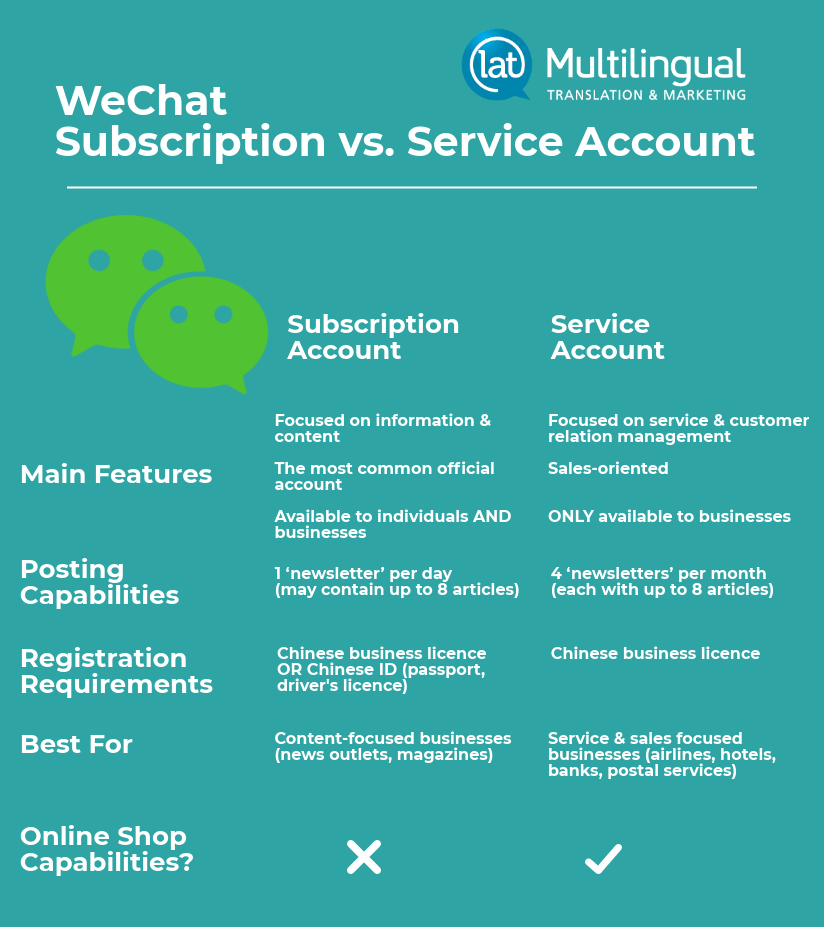 So, a hotel in Montreal would probably find that a service account is the better option because it allows them to provide services for their customers, such as booking and payments, right from within the platform.
LAT already helps businesses such as YVR airport, car dealerships and various professionals manage their WeChat presence, we can help you, too!