Overview 
The US is the top destination for Chinese travellers, with Canada placing tenth. In 2015, 69% of Chinese visitors to Canada arrived by air, 30% through the US.
Currently, four Canadian airports offer direct flights to China: Vancouver, Toronto, Calgary and Montreal. In the US, ten: LA, Chicago, Washington, John F. Kennedy, San Francisco Detroit, Seattle, Newark, George Bush, and Honolulu.
The strong Yuan makes North America a great value destination for Chinese visitors, who are the fastest-growing inbound market.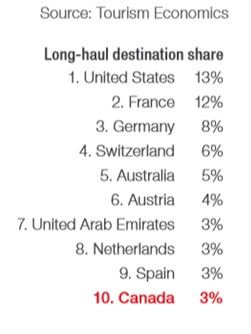 Trends
Ontario and BC are the top Canadian provinces to visit and Chinese millennials (20-34 year olds) account for the largest share of visitors at 32%.
Previously Chinese travellers preferred to book through travel agents; group travel.
Now they favor booking directly through suppliers (air, hotel, etc.); FIT travel is increasing (self-drive and RV rentals, cruise, golf, fishing and photography activities as well as summer and winter leisure camps).

What does this mean for the tourism industry?
Chinese visitors to Canada and the US are increasing.
Chinese netizens are not on Facebook and Twitter. So how do you reach them?
Here's 3 key considerations to keep in mind:
1. A Chinese section of your website – Las Vegas airport offers a Chinese-language version of their entire site, making it highly accessible and bridging the language barrier.
2. A Chinese social media strategy – Facebook and Twitter are not available in China. Instead, you need to set up a Chinese-friendly social presence on Weibo and WeChat.
Weibo is a great direct link to passengers before they travel: Frankfurt airport uses Weibo to share duty-free information: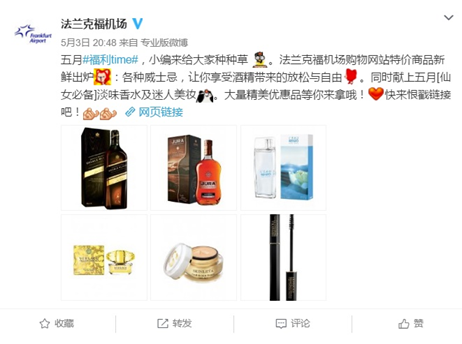 Weibo's aviation department also enables you to reach Chinese audiences and get a better idea of Chinese preferences, based on current promotions.
Vancouver airport uses Weibo to communicate destination information and collaborates with local tourist attractions to attract visitors to the area.
WeChat is perfect for a better, more targeted, customer service. It also allows users to share their experience at your destination with WeChat Moments, like Manchester airport's interactive WeChat account.
Ideally, you'll have presence on both WeChat and Weibo: one allows you to offer information, the other enables you to provide customer service (like Facebook and Twitter).
3. Lastly, Chinese-friendly shops that accept Union Pay are a step ahead in attracting shoppers looking to buy souvenirs and high-end products. Union Pay, AliPay or WeChat Pay are way more convenient for Chinese travellers; they offer low exchange fees and match general Chinese payment habits.
Questions? Talk to us!
Sources: