PRESS RELEASES AND NEWSLETTERS
We are evolving and growing as a company. Stay up-to-date with LAT as we strive to connect communities through Cultural Marketing.
Latest Newsletters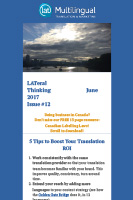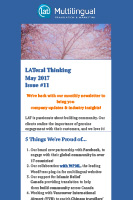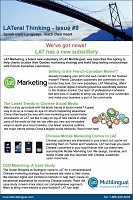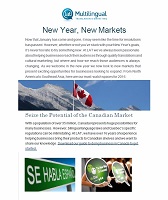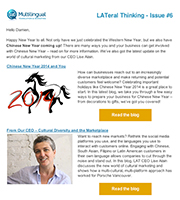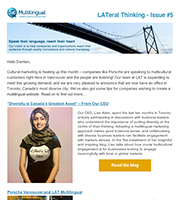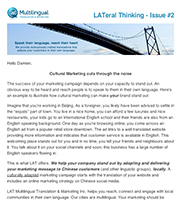 Keep informed on Translation and Cultural Marketing!
Subscribe to the LAT newsletter here.
Press Releases
September 19, 2016
LAT Multilingual Announces Partnership With WPML
First Canadian authorized translation partner for the popular WordPress Multilingual Plugin
VANCOUVER, September 19, 2016 – LAT Multilingual is pleased to announce they are now an authorized translation partner for WPML, and the first and only partner located in Canada. This partnership will provide easy access to LAT Multilingual's translation experts through the convenient WPML WordPress plugin, providing clients with faster and more efficient website translations.
The LAT Multilingual team of translators from around the world specializes in adapting and crafting clients' marketing messages for other languages. They understand marketing, the linguistic communities they live in and the industries they work in, and are able to provide translations customized to the market needs of their clients.
The idea for this partnership originated when LAT Multilingual started receiving more requests for website translations, not only from English to French for the Canadian market, but for other languages as well, from companies who recognize global opportunities.
"In Canada, a bilingual website is not only 'nice to have', it is a must. This collaboration with WPML will make it easier for our clients to localise their WordPress site into Canada's official languages, as well as in other languages," says Lise Alain, president, LAT Multilingual. "At LAT, we strongly believe that investing in cultural understanding and adapting online content allows brands to grow by reaching deeper into today's global marketplace."
The challenge with many website translations is that clients only think about the content on the customer facing webpages. They forgot how much text is in the background – meta descriptions, keywords, pop-ups, call-to-action buttons, error messages and more. For years, companies have struggled with the most efficient way to send web content for translation, a fundamental technical problem.
WPML solves this issue. Using the plugin, clients can choose one, some or many webpages or parts of pages for translation, and all content related to that page will be delivered to LAT for translation. Once the text has been adapted for the target audience, LAT will send the translated version back to the plugin within the client's website administration screens. The webpage preparations can be easily completed by the client to display their content in the new language on their website.
"Because of its bilingual nature, Canada is a great market for multilingual sites. WordPress and WPML make it easy to build these sites and now we can offer native translation to our Canadian clients with LAT Multilingual," says Amir Helzer, CEO of OnTheGoSystems. "We know how important it is to offer translation that understands the culture and nuances of the language. I'm sure that clients in Canada or those looking to reach the Canadian audience will benefit from the new integration with LAT Multilingual."
According to W3Techs, almost 60% of websites use the WordPress platform, which is why WPML.org focuses on providing the WordPress platform with multilingual plugin solutions. LAT Multilingual is also available to assist with sites not on WordPress, and for the translation and adaption of all marketing materials, including proofreading, auditing of translated websites, and social media.
About LAT: Founded in 1999, LAT Multilingual provides translation and digital marketing services to a variety of clients across Canada and the U.S., specializing in adapting marketing content into other languages for their clients. LAT Marketing is LAT's first in-market subsidiary in Quebec, with the mandate to help companies engage with their French Canadian customers.
About WPML: WPML is a plugin for WordPress that allows users to build multilingual websites and translate them. WPML helps build anything from simple blogs to large enterprise sites. WPML is a product of OnTheGoSystems, offering support 6 days a week, 19 hours a day, in 9 languages.
For further information: Contact LAT at contactus@latmultilingual.com (tel: 1-866-936-3833), or click here to get started with translating your website.
May 26, 2015
LAT Marketing is a newly launched subsidiary of LAT Multilingual that specializes in providing a full range of digital marketing services to businesses who want to engage with Quebec customers. Unlike other marketing companies, LAT Marketing relies on its expertise in translation, localization, and content creation to tailor digital marketing strategies to local markets.
Businesses selling to the Canadian market are aware of the language laws and the need to have bilingual packaging and marketing materials. However, when it comes to Quebec, translation is not enough. "Quebec customers are proud of their culture," says Lise Alain, CEO of LAT Marketing. "They are much more likely to adopt a brand, buy a product, or follow a company's activities on social media if the company demonstrates an understanding of Quebec's society and culture."
LAT Marketing localizes your website and SEO strategy, as well as your pay-per-click (PPC) and digital marketing campaigns for the Quebec market. LAT's local teams in Montreal and Quebec City also create and manage French-language accounts on social media. "Whether paid or organic, marketing should always be managed locally", says Lise. "Our vision is to bring businesses to the heart of Quebec's communities so that they can truly engage individuals from a local perspective."
Quebec represents a market of more than 8 million customers who are culturally and linguistically unique in North America. With a local marketing team of professional writers, translators, and digital marketing specialists who are supported by LAT Multilingual's 15 years of expertise in translation and localization, LAT Marketing makes businesses part of the communities they want to reach by allowing them to get in touch with customers locally.
About LAT: Founded in 1999, LAT Multilingual provides language services to a variety of clients across Canada and the U.S. LAT Marketing is LAT's first in-market subsidiary, with the mandate to help companies reach local communities in Quebec.
For further information: marketing@latmarketing.ca Tel: 1-866-936-3833 ext. 106
November 20, 2013
LAT Multilingual Picks Up Three Small Business BC Nominations
LAT Multilingual Translations and Marketing has been recognized for its achievements and contributions to the community of British Columbia by being nominated for three awards at The Small Business BC Awards.
The SBBC Awards recognize the hard work and successes of small businesses in BC – there are nine awards in total, and LAT Multilingual has been nominated for:
Premier People's Choice
Best Community Impact
Best Online Marketer
LAT Multilingual CEO Lise Alain says she is thrilled to be recognized as one of the province's top small businesses.
Lise says, "We are a proud member of the small business community in BC. Given the diverse nature of Vancouver's population, our language services aim to facilitate interaction and foster opportunities between local businesses and various demographics. For that reason, we would be honoured to receive the Premier People's Choice Award.
"In the end, it's all about people."
February 4, 2013
Vancouver-based company brings multilingual communities closer to local businesses by providing social media communication services.
LAT Multilingual Translation & Marketing announced yesterday the launch of its new multilingual service focused on providing turnkey solutions for businesses that wish to reach deeper into their local market by creating multilingual social media campaigns.
"Companies looking to expand into new markets should start with their own local community," says Lise Alain, founder and CEO of LAT Multilingual Translation and Marketing.
Businesses already know that they can see a substantial return on investment by localizing their website content, brochures and packaging, said Alain, but the next step is to engage with customers in their own language and foster discussions about their products or services on social media. (More…)