MULTICULTURAL MARKETING PACKAGES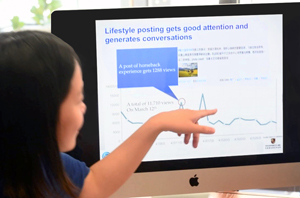 We help you reach people in their own language, on their favourite social platforms.
Ready to grow your sales or connect with people in their own language? We'll adapt your marketing strategy to reach French Canadians in Québec, Chinese customers in North America, Spanish speakers in the United States….and more.

WE OFFER THREE CUSTOMIZABLE PACKAGES
Multilingual Content Creation & Publishing
Seasonal (Cultural) Campaigns to Build Up your Social Media Presence
Social Media Management & Strategy Alignment
Quality content that generates a buzz in your target markets, in English, French, Chinese and other languages.
We help you create a repeatable, effective campaign strategy focussed on sales growth.
Align your social media presence to your marketing plan. A full digital solution that maximizes your online presence on multiple channels and in 2 or more languages.

Social listening in various languages.
Content creation that attracts customers.
Solid media channel network to maximize your reach.
Content publishing.

Design a winning digital campaign strategy for your brand.
Develop enticing content to drive each campaign.
Increase your visibility with daily engagement.
Adapt your existing campaigns to new markets.

Market analysis.
Multilingual Content that echoes your brand's voice.
Full circle social media management (in various languages/platforms).
Multilingual customer service and sales facilitation.

Grow traffic to your site organically!

Jumpstart your social media marketing!

Engage with multilingual markets!
Pricing
Completely customizable to suit your budget.

Additional Services
Media buying on traditional media, adapted to your industry and offer (luxury magazines, etc.)
Website translation and localization
Email campaigns with incentives
Paid Advertising (PPC) in various languages and on a variety of platforms

Advertising packages on various media aim to convert visitors into buyers, in the language of your targeted customers.

Offline Event Planning, aligned with your online marketing package
Customer service in multiple languages (on the phone or social media)